The Cannons Documentary Debuts in D.C.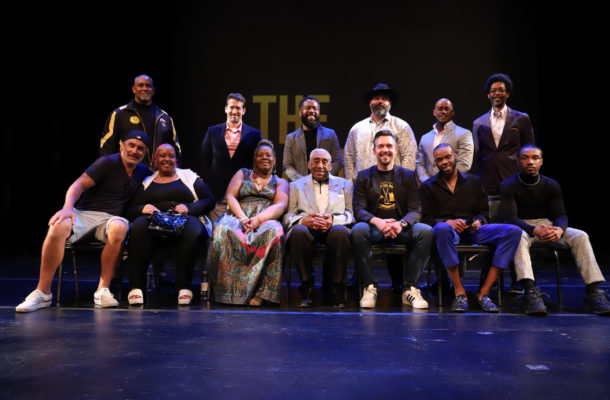 (Photos by Caps Outsider)
"The Cannons," a documentary about the Fort Dupont ice hockey program, made it's long awaited debut at a packed Thearc theater in Southeast D.C. on Saturday. The movie chronicles a season with the Fort Dupont Cannons, the oldest minority-run hockey program in North America. The longtime coach, Neal Henderson, widely regarded as the 'godfather' of D.C. hockey, serves as a mentor, teacher, and father-figure to countless players who play without the having to worry about paying, and only need to keep up their grades to be eligible.
"It's a tearjerker for me," Mr. Henderson said before the show, which was only the second time he had seen it in full. "Because it shows where some of these kids come from, and then seeing that they have an idea of where they want to go. And they have someone who cares about them deeply enough to try and inspire them to continue their lives."
NHL.com reporter Bill Douglas, author of the Color of Hockey blog, served as M.C. and hosted a Q&A after the show with the cast, directors and producers.
After the show, the coaches presented a very surprised Mr. Henderson with a sword and sheath on a plaque, and announced the creation of the The Coach Neal Henderson Award, which is "Earned by the player who has best displayed the traits of integrity, dedication and perseverance, the qualities best exemplified in a lifetime of service of our greatest mentor, Coach Neal."
Recently, Mr. Henderson was honored by the Washington Capitals at Capital One Arena, where the team wore special helmet decals with his likeness. The Cannons also practiced with several Caps alumni members.
"The Capitals have been very generous to me," Mr. Henderson said. "And I appreciate them very much, along with a lot of other people who have helped, because they have seen what I've done, and to help these kids who normally wouldn't have a chance."
After D.C. Disrupts Fort Dupont Rink Plans, Cannons Practice With Caps Alumni