Washington Capitals Cobra Kai Headbands of the Game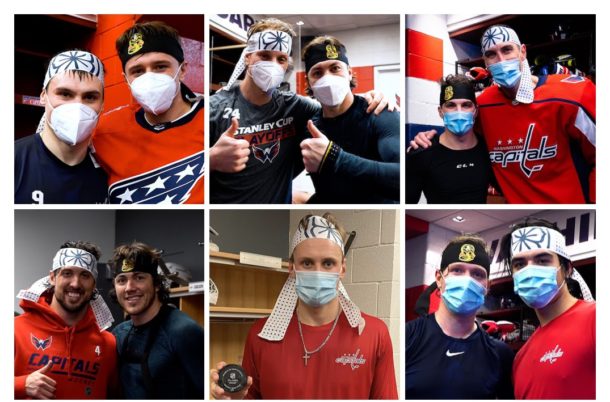 By Brandon Alter and Ben Sumner
This season, head coach Peter Laviolette introduced the Cobra Kai headbands of the game, given out to players after each win for the best offensive performance and best defensive performance in the game. Cobra Kai is a television series on Netflix based on the original Karate Kid movies. Laviolette said he watched the show last year when hockey was on a break.
The white headband is from Miyagi-Do, which stresses defense, while the black headband is from the Cobra Kai Dojo, which stresses offense. The winners after each game are selected by the previous winners. The Caps don't always announce the winners after each game but we'll do our best to keep this up to date. Click on the image for a larger version.
From 2014/2015: Honest Abe Player of the Game
Corrections? E-mail us.
| Date | Opp | Result | Offense (Black) | Defense (White) | Photo |
| --- | --- | --- | --- | --- | --- |
| 5-15 | BOS (Playoffs) | 3-2 (OT) | Tom Wilson | Craig Anderson | |
| 5-11 | @BOS | 2-1 | Michael Raffl | Alex Ovechkin | N/A |
| 5-08 | PHI | 2-1 | Garrett Pilon | Michael Raffl | |
| 5-05 | @NYR | 4-2 | Garnet Hathaway | T.J. Oshie | |
| 5-03 | @NYR | 6-3 | Nic Dowd | Nick Backstrom | |
| 4-27 | NYI | 1-0 | Tom Wilson | Nic Dowd | |
| 4-24 | @NYI | 6-3 | Zdeno Chara | Zdeno Chara | |
| 4-22 | @NYI | 1-0 SO | Michael Raffl | Nick Jensen | |
| 4-17 | @PHI | 6-3 | Dmitry Orlov | Alex Ovechkin | |
| 4-13 | PHI | 6-1 | John Carlson | Anthony Mantha | |
| 4-11 | BOS | 8-1 | Zdeno Chara | Conor Sheary | |
| 4-09 | @BUF | 4-3 | Alex Ovechkin | Brenden Dillon | |
| 4-04 | @NJD | 5-4 | Carl Hagelin | Ilya Samsonov | |
| 4-02 | @NJD | 2-1 OT | Dmitry Orlov | John Carlson | |
| 3-28 | NYR | 5-4 | T.J. Oshie | Zdeno Chara | |
| 3-26 | NJD | 4-0 | Tom Wilson | Ilya Samsonov | |
| 3-25 | NJD | 4-3 | Dmitry Orlov | John Carlson | |
| 3-19 | NYR | 2-1 | Evgeny Kuznetsov | Brenden Dillon | |
| 3-16 | NYI | 3-1 | Alex Ovechkin | Justin Schultz | |
| 3-15 | @BUF | 6-0 | Evgeny Kuznetsov | Vitek Vanecek | |
| 3-13 | @PHI | 5-4 | Carl Hagelin | Nick Jensen | |
| 3-11 | @PHI | 5-3 | Garnett Hathaway | John Carlson | |
| 3-09 | NJD | 5-4 OT | Jakub Vrana | Dmitry Orlov | |
| 3-07 | @PHI | 3-1 | Nick Jensen | Ilya Samsonov | |
| 3-03 | @BOS | 2-1 SO | Richard Panik | Vitek Vanecek | |
| 2-28 | @NJD | 3-2 | Jakub Vrana | Ilya Samsonov | |
| 2-27 | @NJD | 5-2 | Daniel Sprong | Garnet Hathaway | |
| 2-25 | PIT | 5-2 | Lars Eller | Nic Dowd | |
| 2-21 | NJD | 4-3 | John Carlson | Craig Anderson | |
| 2-18 | BUF | 3-1 | T.J. Oshie | John Carlson | |
| 2-16 | @PIT | 3-1 | Richard Panik | Vitek Vanecek | |
| 1-30 | BOS | 4-3 OT | Alex Ovechkin | Nick Jensen | |
| 1-28 | NYI | 6-3 | Conor Sheary | Zdeno Chara | |
| 1-26 | NYI | 3-2 | Daniel Sprong | Trevor Van Riemsdyk | |
| 1-22 | BUF | 4-3 SO | Nick Backstrom | Jonas Siegenthaler | |
| 1-15 | @BUF | 2-1 | Tom Wilson | Vitek Vanecek | |
| 1-14 | @BUF | 6-4 | T.J. Oshie | Brenden Dillon | |