Alex Ovechkin is the NHL's MVP Right Now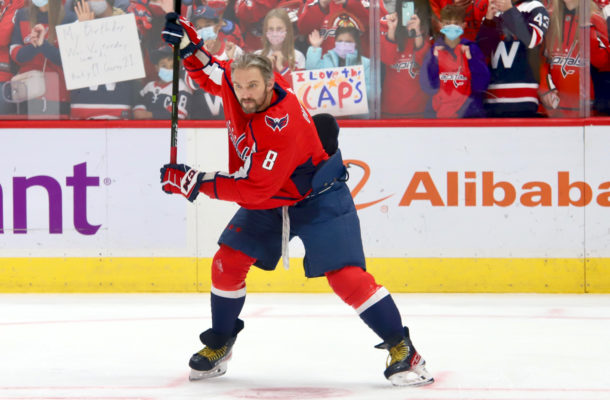 (Caps Outsider)
"I just try to do my job, you know," Alex Ovechkin told reporters following the Caps victory against Columbus Saturday night.
Ovechkin has 41 points, including 20 goals. Through just 26 games, the 36-year-old captain is leading the severely-shorthanded Capitals to a red hot start atop the Metropolitan Division.
Ladies and gentlemen, Ovechkin is the MVP of the league at its quarter-way point.
The Great Eight is personally carrying a team to wins night after night with a roster made of players who many fans still don't know.
The Hart Trophy is awarded to the player that is most valuable to his team, and Ovi is embodying that description, scoring at his fastest rate without his usual centerman Nicklas Backstrom.
His 41 points are third in the league, behind the unbelievable Oilers tandem of Leon Draisaitl and Connor McDavid, who have 43 each.
Although both of their numbers are fantastic, they are a part of a healthy team that is expected to contend in the postseasons.
Ovechkin's ridiculous form in his 17th season is winning tough games night-in and night-out. It makes fans wonder if this man is human and if he'll ever stop torching opposing teams.
Following Ovechkin's 750th career goal Saturday night, which made him the second-fastest player to ever reach that milestone behind Wayne Gretzky, head coach Peter Laviolette was asked if he could see his star playing into his 40s.
"I think that there's a chance. Listen, he loves the game, he loves the team. A lot of it has to do with health, I think, as you get older but right now he's still strong. I could see that happening."
Ovechkin is dominating opponents at 36-year-old. In fact, he's the fastest player at this age to reach 20 goals in a season.  He recently scored on Blue Jackets rookie Daniil Tarasov. When Ovechkin had a stint in the KHL during the lockout-shortened season, he scored against Tarasov's father.  So, Ovechkin is now scoring on a brand new generation of goaltenders.
That is greatness, and the Great Eight is the most valuable player in the league right now.
Goal No. 7️⃣5️⃣0️⃣ for Alex Ovechkin (@ovi8)! pic.twitter.com/WxDcuG3uuS

— NHL (@NHL) December 5, 2021