The Caps Need to Get Younger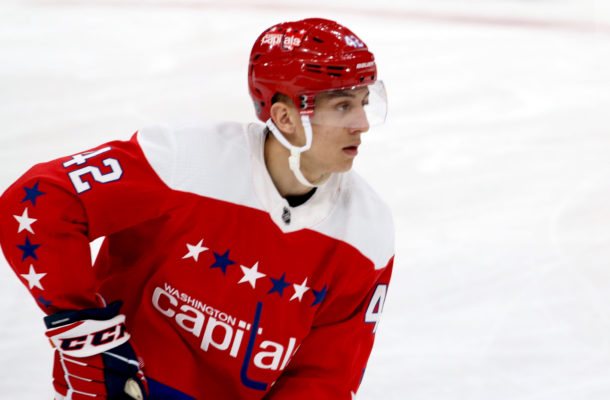 Martin Fehervary could see plenty of time in the NHL next season
With the Caps falling in the first round of the playoffs for the third time in a row, it's obvious that something needs to change with the roster. That something should be to add the young talent into the everyday lineup.
The reason Zdeno Chara was available to be signed by the Caps in the first place was that the Boston Bruins decided they needed to give their young players a shot in order for them to extend their Stanley Cup window. Now, it's time for the Caps — the oldest team in the league before the addition of Chara, to make the same move.
As it stands right now, at the start of next season, the Caps have committed $46.25M —56.7 percent of the $81.5M salary cap to 10 players over the age of 30, and this doesn't include the expected contract of Alex Ovechkin. Those 10 players are Nick Backstrom, TJ Oshie, Lars Eller, Carl Hagelin, John Carlson, Dmitry Orlov, Justin Schultz, Brendan Dillon, Nick Jensen and Trevor van Riemsdyk. This also does not include Michal Kempny who will be 31 at the start of next season and is $2.5M cap hit.
The Caps will likely lose one of the above players to the expansion draft, and a potential trade of Evgeny Kuznetsov will expose some holes in the Caps lineup. For a team that admits it was a step slow, it's time to add speed and stop doubling-down on veterans to fill those holes. In fact, the Caps should be looking for ways to create holes in their lineup. For fresh blood, the Caps don't need to look any further than Hershey.
Prized top prospect Connor McMichael was a must-see during the shortened 2019-20 OHL season. He put up hat trick one after another. This season, he played in Hershey where he had a fantastic season. In addition to McMichael, the Caps have at least one defenseman Martin Fehervary, who is ready to take the next step. Fehervary has played 80 games for the Bears the last two seasons and has 31 points and is a +25 in those games. The other is Alex Alexeyev, who spent most of the year in his native Russia where he put up 16 points in 55 games in the KHL, and put up another nine points in 12 AHL games at the end of the season. The Caps could also look at Brett Leason who had a breakout season with 20 points in 33 games. The Caps could also look at potential trade targets.
The definition of insanity is trying the same thing over and over and expecting a different result. Over the last three seasons, the Caps have tried to double down on veterans and have gotten the same result — a first round exit. No matter how they do it, the Caps have to find a way to get younger.