We the People… get filthy in Boston
Everyday, the silent majority get louder and louder, thanks in no small part to the innovative invention of Twitter.  So when Verizon shakes and TVs are thrown, everyone's reactions explode into 140 characters (or less) of awkward brilliance.  While you may love your 15 followers, we here at Capitals Outsider want to make sure they aren't the only ones to hear your in-game gems.  Make it snazzy folks. #wethepeople #caps
For two periods Thursday night, the Boston Bruins and Washington Capitals went painfully scoreless.
Literally. I can't imagine this felt good:
Joe B. and Craig Laughlin point out that Adam McQuaid turned at the last second.  Whether or not Brendan Shanahan feels McQuaid had the onus or Jason Chimera recently started collecting skulls in his basement will have to wait for a later date.  Given recent rulings, you probably have a better chance betting on the Mega Millions than predicting the decision.
Despite the loss of Chimera (he got a five-minute charging major and a game misconduct), the Caps plodded through another period, inspired enough to up their shots from two in the first to seven in the second.  In the third period, they finally decided to score.
It doesn't take a deep look at the headlines to know that Boston has been struggling lately.  They looked to be resurging, going 6-1-0 after Washington started them on a four-game losing streak.  But then the Caps went off to spoil it again.
After an offensive push that included a fumbled shot by Brad Marchand, the perfect play came together in front of Tim Thomas.  Brooks Laich drove to the net, Alex Ovechkin opened up the slot by attracting Rich Peverley, and the three other Bruins went all in on Marcus Johansson.  That left open the Dennis Wideman option, who scored much to the anger of TD Garden.
Boos for Wideman as he is announced as the #Caps goal scorer. Some things dont change even if he dons another jersey, do they?

— Tim Rosenthal (@rosieshockey) March 30, 2012
A couple minutes later, Ovechkin came flying down the left wing looking exactly like he a million times before.  Every once in a while, it actually works, and with Johansson flying just as fast down center, the captain delivered…across the ice.
Breaking a stick never felt so sweet.
#MOJO BREAK THAT STICK AT MEEEE

— Mohammad Jameel (@Mohammie) March 30, 2012
YES YES YES YES YES YES YES YES we needed this ! YEAA MOJO ! PUT THAT IN YOUR JUICE BOX AND SUCK IT !

— Heitha Neuvirth (@HeithaNeuvirth) March 30, 2012
If you're waiting for the part where the Caps break everyone's hearts, you've just arrived.  With their presumed self-esteem issues that presumably make them feel unworthy of their own success, the Bruins were steadily let back in the game.  The first comeback goal was a result of defensively weak play by Dmitry Orlov, the second by a Karl Alzner giveaway.
Boston had the late push in regulation, and despite it, Washington made it to overtime.  The Bruins advantage carried over after the initial puck drop, but by the end of the five minutes, Ovechkin was one missed shot away from more overtime greatness.
Thomas remained firm and the game moved into the dreaded shootout, where the Caps had only won twice in six tries.  The Bruins were eight out of ten.
Though Thomas is intimidating in net, Matt Hendricks is just #filthy.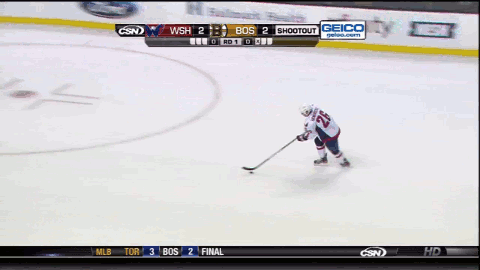 Alex Semin would score to keep the Caps in, and after a save by Michal Neuvirth on Peverly, all eyes were on Laich.  Not as flashy as Hendricks, Laich pulled a few dekes, laid down a slick backhanded shot, and sent Thomas literally stumbling off the ice.
Or Obama was hiding in the tunnel.

After Hendricks and Laich were done, I'm pretty sure Obama just tripped Tim Thomas on the way to the locker room #Shouldagonetothewhitehouse

— Richard McBreen (@RichardLMcBreen) March 30, 2012
Either way, Caps have another one to put in Saturday.  Until then, we party.
putting on my laich jersey and getting DRUNNNNK #happydoesntevenbegintocoverit

— Clare (@blondecai) March 30, 2012